Five things to do in the North York Moors
Posted on August 19th, 2022 by Sproxton Hall Cottages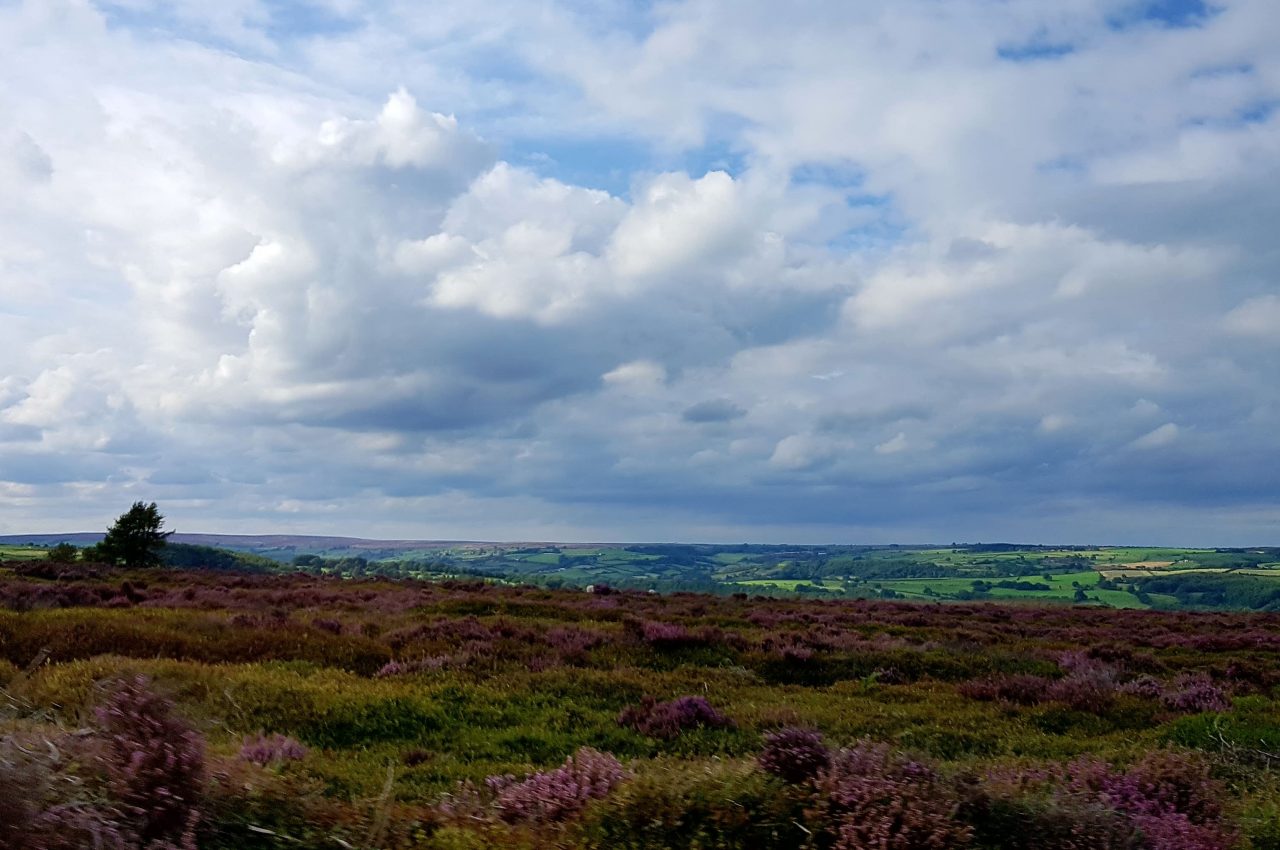 Here in Sproxton, we're lucky enough to be just a few miles from The North York Moors national park. The national park is a huge (554 sq mi; 1,430 km2!) area of gorgeous moorland which is gorgeous in all seasons. Whether you're around to see the bluebells in late spring, the heather in summer, or the stunning backdrops in autumn and winter, there's plenty to see and do. Here are five of our top things to do at any time of year:
1. Walk
The national park includes 26 miles of coastline and 1,408 miles of footpaths. There are plenty of walks for you to do alone or with your four-legged friends. The national park website has a very handy map and guide which splits their walks by distance and whether they are easy- access, there are plenty of options to choose from!
One of our favourites is at nearby Sutton Bank. You can park in the Sutton Bank national park car park and see some gorgeous views from up at the top of the hill and along a two-mile walk. Or if you want to see the famous White Horse, you can take the woodland walk which takes you along the old thieves' highway which was once used by highway robbers!
Or maybe you want to go a bit further afield and see the sights around Castle Howard in a five-mile walk, including the Great Lake, the Temple of the Four Winds and the Mausoleum.
If you're interested in taking in some local history of the area, you can also walk from Helmsley to Rievaulx Abbey on a seven-mile circular route. The walk takes you via Helmsley castle which was first constructed back in 1120, through woodlands and along to Rievaulx Abbey, founded by monks in 1132, this was one of the great abbeys of England until it was dissolved by King Henry VIII in 1538.
2. Head into Helmsley
Two miles from Sproxton Hall cottages lies Helmsley. This thriving market town has a very long history and is a perfect place to visit, whatever the weather. It was first settled in around 3,000 BC and has 51 listed buildings in the town.
If you're interested in history, you can see the remains of 900-year-old Norman castle which was destroyed in the Civil War, or the Walled Gardens (originally built in 1756). Or if you are a nature lover, there is also the National Centre for Birds of Prey. If the weather is not on your side, you can pop by Helmsley Arts Centre to catch one of its film screenings, theatre performances, comedy clubs, art exhibitions or workshops.
Meandering down the main street, you can give your feet a rest in one of the many independently owned coffee shops, cafes, and eateries. You'll be able to see why Helmsley was crowned the best market town in Great Britain by the High Street of the Year Awards back in 2015!
Take a moment to tie your bonnet and hold on to your top hat while we explore the national park from the luxury of a steam train!
First built by George Stephenson in 1836, the railway travels 18 miles through the heart of the North York Moors National Park. It is the second-longest preserved line in Britain and carries more than 250,000 passengers a year.
Start in the market town of Pickering and take some time to explore its 13th-century motte and bailey castle built by William the Conqueror as well as the church of St Peter and St Paul – a Grade I listed building dating from the 12th Century. Then head down to the station with its original fixtures and fittings dating back to the 1930s.
The first stop is at Levisham, a small village where you can take a five-mile scenic walk over Levisham Moor around the Hole of Horcum. The scenery around here is stunning. You won't be able to miss this 400 feet (120 m) deep x ¾ mile (1.2 km) wide natural amphitheatre which legend says was formed when Wade the Giant scooped up a handful of earth to throw at his wife during an argument. Or, if you'd prefer something more leisurely, you can head into The Horseshoe Inn for lunch or a drink.
You can also request that the drive stop of in Newton Dale, a place with no road access so one of the few ways to get here is via the steam train!
Next, you can stop off at Goathland, famously Hogsmeade Station in the first Harry Potter film and also featured in Heartbeat. Or if you've not had enough of stories of Wade the Giant, you can visit Wade's Causeway, also known as the 'Roman road' which runs across nearby Wheeldale Moor.
Your final stop is Grosmont, and if you're in the mood for more steam travel, from here, you can catch the Esk Valley Railway, to and from Whitby.
4. Dalby Forest
If you're looking to stay active and see the beauty of the national park, there's nowhere quite like Dalby Forest. The forest boasts over 8,000 acres of woodland to explore including thirteen walking trails, four running trails and six cycling trails.
You can hire a bike at Dalby Forest Cycle Hub and try out the 55 miles of cycle trails. Or if walking is more to your liking, there are plenty of trails available including a number which are all ability, suitable for wheelchairs and pushchairs. There are also lots of picnic benches in the forest if you fancy a picnic in the woods.
5. Stargazing
Grab your coat and thermos! The North York Moors national park isn't just beautiful during the day. When it gets dark, you can look up and see the sky filled with as many as 2,000 stars at any one time. The national park boasts three separate Dark Sky Discovery sites found at Sutton Bank, Dalby Forest, and Danby. This means they've been recognised for their low levels of light pollution and good public access.
If you're an amateur astronomer, you might be interested in the Dark Skies Festival held in the North York Moors and Yorkshire Dales national parks in early 2021 (12-28 February 2021).