5 Dog Friendly holiday features
Posted on August 19th, 2022 by Sproxton Hall Cottages
There's a lot of debate about what makes a holiday cottage 'dog friendly'. As dog owners ourselves we know what it takes for our dog to relax and enjoy his holiday, which means that we feel relaxed too. When looking for your next holiday, here are our suggestions for the top 5 features of being dog friendly.
Get in touch with your own suggestions – we are always interested in new ideas.
1. A safe space to stretch paws and run free
Whether your dog has great recall or selective deafness, having an enclosed large space to run free in is a great feature of any holiday accommodation. Even better if there is somewhere for owners to sit out and admire the view while tiring their dogs out off the lead.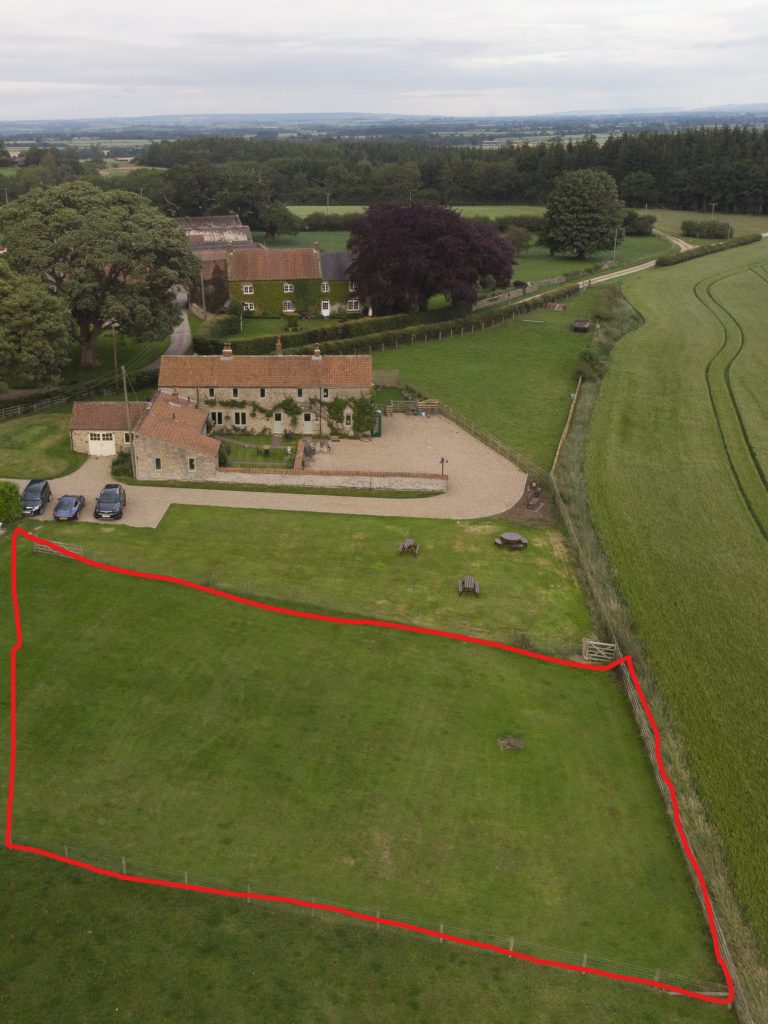 If your dog is an escape artist, remember to check with the owners about the height of fences and any gaps under gates. What is 'secure' for one dog isn't secure for another so take time to check this out – most owners are happy to supply additional photos/information. Some guests prefer a private garden as soon as they open their door and may be happy with a small space. We find that dog owners love the large paddock and the freedom it provides, even if it means walking a few steps to get there.
2. Picturesque walks from the doorstep, quiet country trails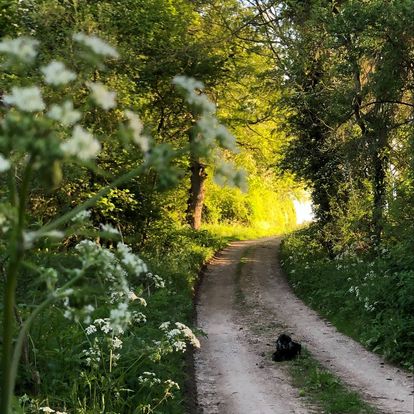 What will you do when you get on holiday? We like to be able to explore country trails close to our holiday base, ideally from the doorstep and without having to move our vehicle. Having walks close by also makes it easier for taking an early morning or late evening stroll. Even better if those walks take you straight into nature and offer stunning views. Check out our walking guide into dog-welcoming Helmsley. Our dog isn't keen on other dogs, so having some walks that we know are quiet is a great way for everyone to feel at ease. We can point you in the direction for some forest trails and views across moorland only a couple of miles away, and stunning scenery in the North York Moors National Park. These are a real retreat into nature. If the landscape is muddy, don't worry – we have a dog shower. In rural North Yorkshire you will be spoilt for choice. We have two national Parks – we are on the edge of the North York Moors National Park (pictured in the collage below) and the Yorkshire Dales National Park is a short day trip away. Combined with the rolling hills of the Howardian Hills Area of Outstanding Natural Beauty (our location and views) and the soaring cliffs and sandy beaches of the Yorkshire coast, there are walks for all dogs great and small.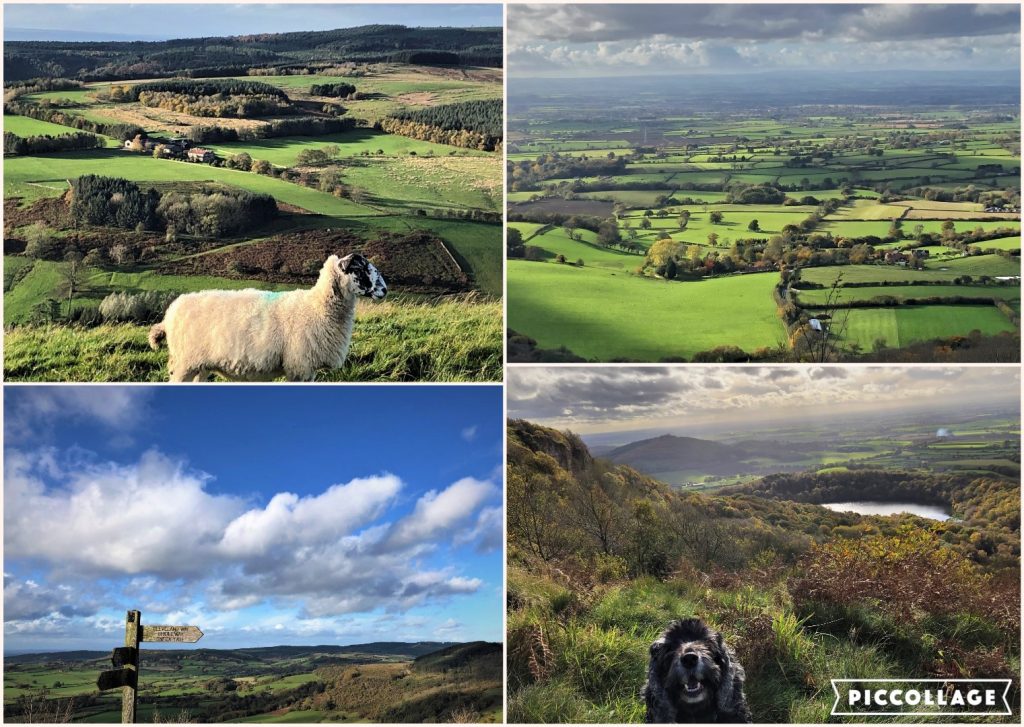 3. Dog friendly cafes, pubs and shops
You will want your dog to be with you whilst you explore the local towns, attractions and amenities. How dog friendly is the surrounding area? Taking time to check that your dog can be included in the fun is really important, and most attractions make it clear if dogs can join you. Plan ahead – it can be dangerous to leave your dog in the car alone and it may not settle if left alone back at your accommodation. Our cottages have a stack of leaflets for suggested days out and Helmsley is well known for being dog-friendly. Several pubs, restaurants and shops welcome dogs into their premises, with many cafes having outdoor seating areas too. Who knows? Your dog may have brought some spending money to treat you to a pint at the micro-brewery, or a delicious locally made ice-cream.
4. Beaches and rock pools
We have yet to meet a dog who doesn't like the seaside! Dipping paws into rock pools, chasing seagulls, and getting sand in the fur is a 'must do' on many holidays.
When selecting your holiday accommodation, have a look at which beaches allow dogs as many popular beaches have restrictions. There are dog friendly beaches open throughout the year in North Yorkshire – some of the best include Robin Hood's Bay and Runswick Bay, plus large stretches of beach with walks from Sandsend to Whitby; Fraisthorpe to Bridlington; and the miles of sandy beaches at Filey (check local restrictions). All are 30 – 40 miles away and make a perfect day out, followed by a quick dog shower (shampoo and towels provided) and a long relax in front of the log burner, which brings us to….
5. Home comforts and relaxing surroundings
Ask any dog who should have the prime position in front of the log burner and they will say that it should be them. We know that the dog shower may not be deemed a 'home comfort' by your dog but you can be reassured that there is somewhere to clean them off and that a dog towel or drying mitt will be provided. What does your dog do at home? For dogs who are used to being on the sofa, check if your accommodation will allow you to use a throw (we do). If it's important for your dog to be in the bedrooms whilst on holiday, check with the owners if this is permitted (we don't). We often get asked about the flooring in our cottages – Bilsdale and Riccal Dale Cottages have hard floors downstairs; Kirkdale's living area includes carpet.
How does your dog react to the unexpected? If you are planning a holiday around the 5th of November or New Year (or other special events) think about whether fireworks will disturb your dog. We get booked up every year with owners wanting to escape the fireworks with their dogs. Conversely, if your dog has a particular dislike of livestock then rural North Yorkshire probably isn't for them.
Packing for your pooch
Definitely bring your dog's own bed and some toys, that way they will feel more relaxed in their new surroundings. We also recommend bringing their crate – particularly if you plan to leave your dog in the cottage unattended once they have settled in. If you think your dog will have trouble settling, we find that giving them a piece of our clothing (the smellier the sock or shoe the better) can help them relax. This was a tip from the Dogs Trust when we adopted Daniel the Spaniel. He still hordes footwear – his bed is like a branch of Clarks!
Remember to pack their usual food and bowls – obviously this builds familiarity and avoids upset tummies. The cottages have dog bowls if you need them, and if you run out of food, BATA in Helmsley has a good selection.
We provide dog drying mitts/towels but you can never have too many – particularly in the wetter months – so pack a few too. Finally, remember a ball or frisbee for fun in the paddock (a glow in the dark variety is great for the winter months) and a pair of speedos for the beach.
The right balance?
We like to think that we are dog friendly and have struck a balance that keeps both dog owners and non-dog owners happy, but we aren't a dog 'free for all'! We expect all our guests (whether two or four legged) to abide by certain standards which mean that the cottages remain clean and fresh, everyone stays safe, and our non-dog owning guests also enjoy their stay. You can find out more information on our website and booking Terms & Conditions. Other responsible cottage owners will have their own terms – some will be more relaxed than ours but a lot will be stricter. Feel free to contact us with any special requests for questions – we would be happy to help.