Planning celebrations on holiday
Posted on August 19th, 2022 by Sproxton Hall Cottages
If you are planning a relaxing get together for a special birthday, anniversary or reunion, here are our top tips.
Choosing the right area
Are you looking for low-key relaxation or a full-on party?  The suitability of your chosen area will be key to getting this right.  Whilst stag/hen parties and younger groups are more suited to the bright lights of York and Newcastle, families enjoy the peaceful tranquillity of a more rural setting.   However, you will want to be able to create lasting memories by having places to explore and eat together – getting away from it all doesn't have to mean remote.
Helmsley and the North York Moors are a popular choice.  With restaurants and country pubs with large dining areas, a micro-brewery, and a bustling selection of unique shops, Helmsley is a top choice.  There's something for everyone including a castle, walled garden, (seasonal) outdoor heated swimming pool, and the National Centre for Birds of Prey. Duncombe Park, Rievaulx Abbey, and the Cleveland Way are all located here too.
Finding the right accommodation
Multi-generation groups will have a range of preferences. Is there single storey accommodation for the less mobile, and lots of safe outdoor space for very mobile children? Choosing a location can be tricky, especially if you aren't used to spending a whole holiday together in the same house, and if you are wanting to bring your dogs.
Booking a group of cottages provides more privacy and flexibility, as does a location where you will be the only guests.  Don't be the one who has to cater for 17 people every breakfast, lunch and dinner – having your own accommodation can also spread the load!  Look out for dog friendly features where your dogs can relax and join in the celebrations.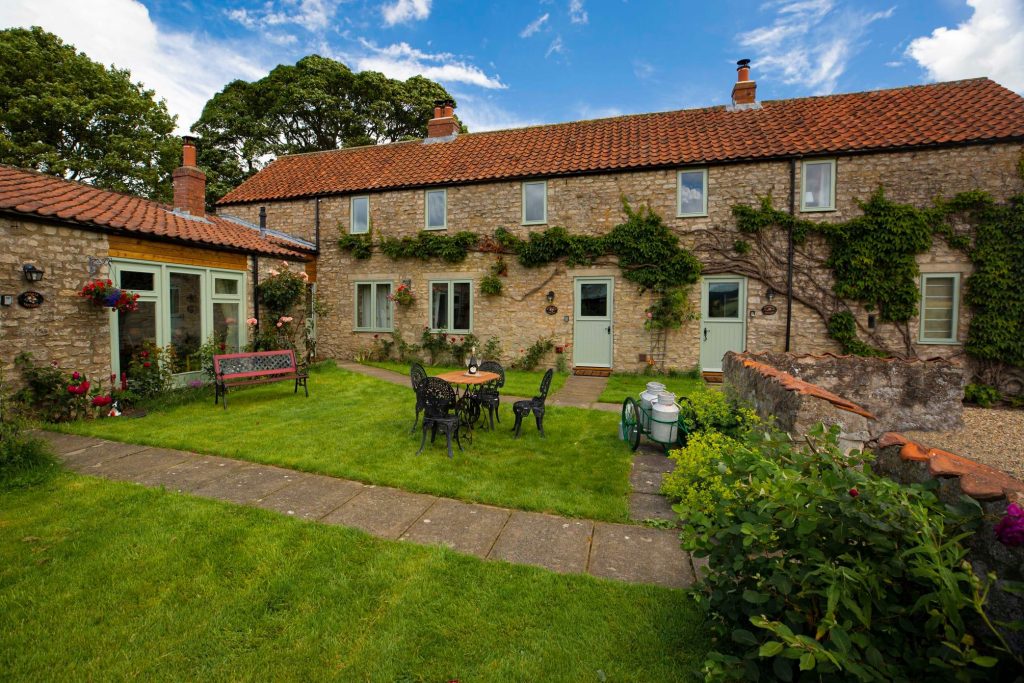 Local suppliers – adding extra special touches
If you are planning for a special birthday or anniversary, then booking a cake or flowers locally can remove the stress of providing and transporting your own.  We have had a cake delivered through a bedroom window to help make the occasion a very special surprise!  Thank you Celebrate Country Cake Design.
Packing for a self-catering stay can take up boot space in the car – check out the local micro-brewery (Helmsley Brewing Co.) and wine merchants (Helmsley Wines) to organise your tipples in advance, and don't forget to book a supermarket delivery service direct to your accommodation.
Try something new and create unique memories
Have a think about how you will spend your days on holiday.  Many guests have a day trip to the coast or York, and amble down to Helmsley on the walk from the cottages.  What will create the best lasting memories?  Booking a private pool session at the local outdoor swimming pool is a cost-effective and popular activity for groups.  We have had guests book unusual group activities such as a zumba class and horse riding (not at the same time!). How about a guided walk to help you reconnect with nature or a trip in a glider for the guest of honour in the North York Moors National Park? Cycle hire at Sutton Bank and Dalby Forest can be combined with accessible walking trails, so that everyone gets some fresh air and exercise.
Planning ahead
If you are planning a special birthday/anniversary surprise or looking for a group booking for a sporting event, the dates will be obvious, but for other get-togethers think about travelling out of peak season for a better selection of availability and prices. Spending Christmas or New Year away from home is a real treat, and creates a unique way to share the festive season with loved ones. We often get group bookings a full year in advance, and there may be limited accommodation of the type you are looking for so our advice is to plan ahead and book early.
Do we fit the bill?
Imagine being able to wake up to the sounds of nature, having a leisurely breakfast before heading out to explore the shops and attractions of Helmsley or the beautiful surrounding countryside with your chosen companions. Spend a relaxing afternoon catching up in the cottage gardens, followed by a group BBQ or buffet before sitting out under the stars to reminisce and reconnect over a glass of wine. Sproxton Hall Cottages provides an idyllic setting for your celebration.
Our 4 cottages can be booked as a group, sleeping a total of 17 people, for long weekends, mid-week breaks and week-long holidays.    We host relaxing, low-key celebrations rather than parties, so decline requests from stag and hen groups, or other parties more suited to a city base.  We are surrounded by nature and livestock so we do not permit fireworks, or Chinese lanterns etc.  If you book all 4 cottages you will be the only guests in the holiday cottages.  We live on site – our cottage is directly behind the holiday cottages and shares use of the drive, but we have our own garden.